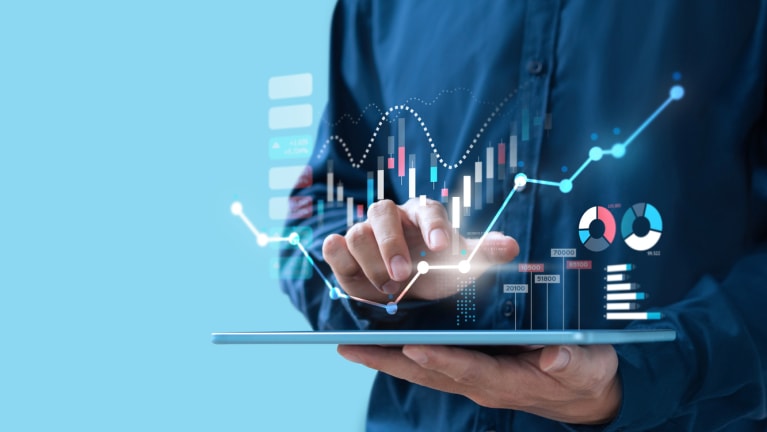 ​Workers value fairness: 88 percent of U.S. workers believe fairness is extremely important or very important in the workplace. And research suggests that workers are willing to quit rather than accept unfair treatment. For example, 27 percent of U.S. workers said they started looking for another job when they found they were being paid less than a colleague of a different gender or race, SHRM found in Bridging the Pay Gap. Without equity, diversity, equity and inclusion (DE&I) programs, DE&I efforts can stall, fail or even backfire. Despite this, equity is often overlooked as many organizations place more emphasis on diversity and inclusion.
To better understand and subsequently promote workplace equity in U.S. organizations, Work Equity, an initiative by the Center for Social Innovation at Boston College, partnered with SHRM Research to conduct the National Study of Workplace Equity. This study investigated the root causes of inequities in the workplace using a representative sample of 1,062 U.S. workplaces. Researchers explored where inequities are most likely to be embedded in various employment systems, beginning with job structure (expectations for where, when and how much an employee will work) through recruitment and hiring, compensation and benefits, and to separation from employment. Looking at inequities across 10 employment systems allows organizations to pinpoint where problems lie and take concrete steps to ensure fair treatment, access, opportunity and advancement for everyone in the workplace.
For each employment system, respondents rated the extent to which their organization had taken steps toward equity along key pathways, or levers, for change. Levers include policies, practices, evaluation, roles and accountabilities, culture, climate and communication (see Figure 1).
Figure 1. The 10 employment systems and 7 levers for change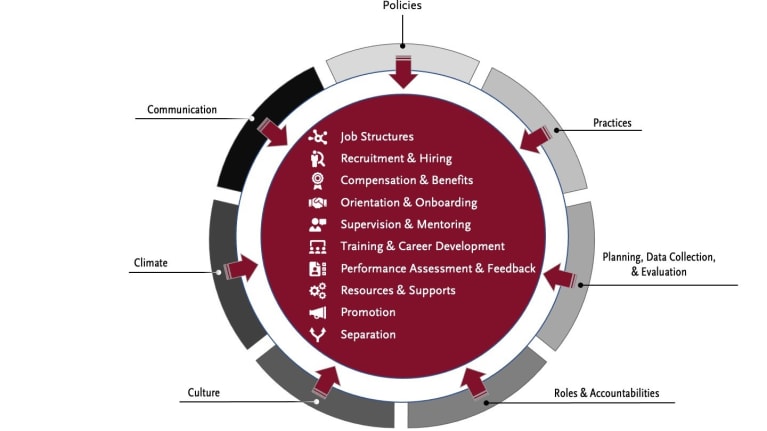 The State of Workplace Equity
So, what is the status of equity among U.S. employers? The short answer is, there is progress to be made. A little more than one-quarter of organizations acknowledge that in the past two years, their employees have experienced gender bias (28 percent), racial bias (27 percent) or age bias (26 percent). The results suggest these inequities are often embedded in employment systems, as evident in the variation of equity measures across the employee life cycle. The three most equitable employment systems are: 1) recruitment and hiring, 2) compensation and benefits, and 3) orientation and onboarding. The three least equitable employment systems are: 1) resources and supports, 2) job structures, and 3) supervision and mentoring. The results suggest that organizations are starting off strong in terms of maintaining fairness during the early stages of the employee-employer relationship but are challenged to maintain fairness across the entire employee life cycle.
Insight to Action
The National Study of Workplace Equity identified ways for organizations to strengthen equity in the workplace by addressing their strengths and weaknesses. When it comes to equity, common employer strengths include promoting a climate of inclusion and communicating fairly across employment systems. Major weaknesses are that few employers are conducting equity audits or holding someone accountable for monitoring the fairness of employment systems.
Addressing these weaknesses is particularly important to promoting equity across the 10 employment systems. Not surprisingly, the areas where auditing of and accountability for equity are more likely to occur are in the employment systems of benefits and compensation, performance assessment/feedback, orientation and onboarding, recruitment and hiring, and lastly, separation. These areas tend to be regulated by state and federal employment laws that provide recourse for employees who allege violations. The fairness of job structures, supervision and mentoring, and employee resources and support receive less attention from regulatory agencies, so there is less external pressure to conduct audits and subsequently hold someone accountable for the fairness of these employment systems.
Competencies in Action
For organizations to successfully address these weaknesses, HR professionals need to have Analytical Aptitude, which is one of the behavioral competencies of the SHRM Body of Applied Skills and Knowledge. HR professionals with an Analytical Aptitude are data advocates, data gatherers, data analysts and evidence-based decision-makers. HR professionals with this competency have the knowledge, skills and abilities to effectively monitor equity across the employee life cycle and the know-how to effectively translate this data into action. By collecting and presenting objective metrics to company leaders, they can advocate for advances in equity across all employment systems. They can also ensure their organization has the metrics needed to hold someone accountable for the fairness of employment systems. To improve equity in the workplace, HR professionals must serve as:
Data advocates who lobby for regularly scheduled equity audits of all employment systems.
Effective data gatherers who can identify what data and HR metrics have utility for measuring the fairness of employment systems. With working knowledge of data collection, research methods and benchmarks, they can monitor and report on the status of employee equity in their organization.
Competent data analysts who understand measurement concepts and can assess whether data is accurate or potentially flawed.
Evidence-based decision-makers who align HR programs, practices and policies with workplace equity needs. As such, they inform their organization's leaders of the key findings of the equity audit, recommend which employment systems should be targeted for improvement, and draft policies and practices to enact those improvements.
HR professionals who serve in these roles can bring immense value to their organizations. Implementing or expanding workplace DE&I initiatives is one of the top five priorities for organizations in 2023, SHRM found in the 2022-2023 SHRM State of the Workplace report. In many organizations, leaders' first instinct will be to develop programs, buy new technology or hire consultants. While these approaches are certainly valid, HR professionals first need an Analytical Aptitude to ensure their DE&I efforts succeed in supporting equity in the workplace.
Ragan Decker, Ph.D., is lead researcher, SHRM Research. Kerri Nelson, Ph.D., is director, policy & partnership research, SHRM Research. Kirsteen E. Anderson is specialist, research content and report writing, SHRM Research.