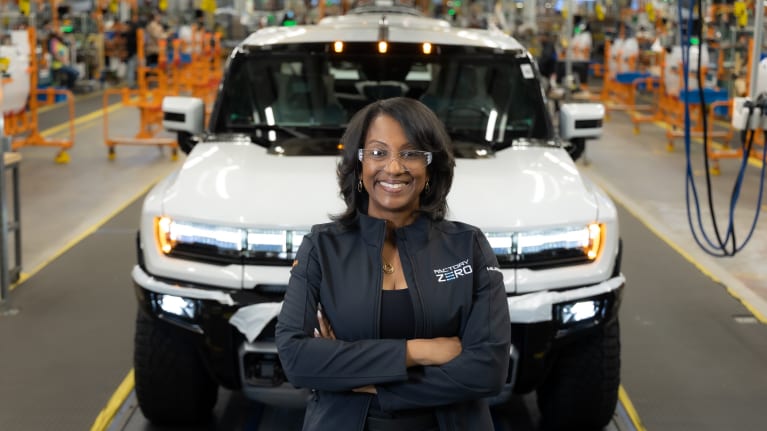 ​General Motors is traveling toward transformational change, and Tamberlin "Tammy" Golden is helping the 115-year-old company get there.
In 2020, amid heightened attention in the U.S. to police officers killing Black people, GM's chair and CEO, Mary Barra, announced that she wanted GM to become "the most inclusive company in the world." The following year, the company created Golden's role: executive director of workforce strategy in the office of diversity, equity and inclusion (DE&I).
With a lean team of about half a dozen professionals, Golden is working to expand GM's talent pool so that its workforce is more diverse and inclusive. "Our mission is to weave DE&I into the fabric of our organization," she says.
Shifting Gears
By broadening GM's talent pool, Golden is also helping the organization realize another strategic shift—a move away from internal combustion engines to all-electric vehicles. GM plans to build 1 million electric vehicles by 2025 and to stop making gasoline-powered vehicles by 2035. "That's exciting for our teams to launch," Golden says. "It's probably the most significant program of their careers."
She and her team are helping GM attract, engage and retain talented people from broader backgrounds and experiences to contribute to the company's electric future. The company takes a skills-first approach to writing job descriptions and hiring candidates. That helps create career pathways for people who historically have been underrepresented in business, such as applicants without traditional four-year degrees. Under Golden's leadership, GM has removed its college-degree requirement for front-line leaders in manufacturing and created scholarships for women and people of color in the Detroit area to help them become software developers.
STEM (science, technology, engineering and math) professionals, of course, will be vital to GM's future, as will innovative thinkers, Golden says. But the company also will need people leaders who can support their teams during the transformation. That's why Golden launched inclusive-leadership coaching for all of GM's people managers globally. During two and a half hours of coaching, followed by small-group sessions, leaders take "a self-reflective walk," Golden says, to learn effective ways to collaborate, build trust and be more inclusive. (Of the eight employee behaviors GM uses during salaried employees' evaluations to help determine promotions and pay increases, the most recent addition is "be inclusive.")
By the end of September 2022, about one-fifth of GM's people managers had taken part in the training, which ultimately will be extended to all 12,000 of its people leaders worldwide. Survey feedback from participants so far has been overwhelmingly favorable.
Gaining Experience
Despite her focus on people in her current position, Golden has spent the bulk of her career at GM not in HR but in leadership roles in manufacturing. When she joined the company in 1985, she was a student at Cass Technical High School in Detroit and began a work-study program with GM's labor relations department. "That's where I first acquired my passion for HR," she says. Golden continued to work with GM through another work-study program while attending Wayne State University, where she earned a Bachelor of Science degree in business administration.
For her first position at GM after college, Golden worked as a labor representative. When she accepted a professional development opportunity to gain experience in manufacturing, she planned to return to HR. But Golden found she also had a passion for working in the company's plants. "I chose to stay with manufacturing because I enjoyed its dynamic nature and challenges. I also loved working with the people—my HR experience prepared me to take on manufacturing," she says. "I'm not a degreed engineer, but I thoroughly enjoyed assisting engineering teams in getting vehicles to production and to customers. It's exciting work."
Golden ascended the manufacturing ranks, gaining a deep understanding of the business along the way. Most recently, she served as plant director for GM's Flint Engine Operations, which produces engines for multiple vehicles, in Flint, Mich.
Supporting People
Golden's current role, which she assumed in May 2021, takes her career back to where it began—in HR. Yet she doesn't see it as a radical change. While her professional life has been spent mostly in manufacturing plants, it has been "deeply rooted in the people experience," she says. "I enjoy having a positive impact on people, whether it's in HR or manufacturing." She points to her involvement with two employee resource groups—as the lead of the GM African Ancestry Network and as a member of the leadership board of GM Women in Manufacturing.
When Golden looks back over her career, it's her impact on people that gives her the greatest sense of accomplishment, she says. "I'm proud that I've led teams to achieve what sometimes feels impossible."
Golden recalls one particular experience that occurred as GM filed for bankruptcy in 2009. As general assembly area manager for GM's facility in Lansing, Mich., she helped her plant go from three shifts to one and then back again to three, while also bringing a new car model online—all in two and a half years.
"People always asked how I could get that done while we were staring at this bankruptcy crisis," Golden says. "One thing I always do is put my teams first and make sure we keep our priorities in order."
For Golden, that means giving her people the time and support they need to attend to their personal lives. That "ensures everybody can bring their best self to work," she says. "To get the best work done inside the workplace, you have to consider that people have lives outside the workplace. You have to create that integration." As a leader, Golden always aims to integrate the needs of the business with the needs of her people—but she admits that's also one of the biggest professional challenges she encounters.
In 2022, Golden experienced a moment that confirmed she had helped at least one employee in this regard. She was speaking about work/life integration at a GM Women in Manufacturing event when someone in the audience raised her hand and told the group that she used to work for Golden. She described the first time she heard Golden speak about wanting her team to prioritize both work and life. She said Golden then asked the team to hold her accountable for that.
Golden says, "She was like, 'Yeah, right, everybody says that, but when it comes to doing it, will she?' " Then, Golden says, the audience member explained how she experienced family-related difficulties. She said Golden, without judgment, allowed her to work flexibly so she could take care of her family while continuing to contribute to the company—long before flexible or remote work became commonplace. "She said she was a believer after that," Golden says.
Keeping Family in Mind
As a wife of 32 years, a mother of two and a grandmother of one, Golden says she tries to model the happy union of work life and personal life that she wants her people to enjoy. "Everything I do, I do with my family in mind," she says.
Justin Foust was first impressed by Golden's attention to work/life integration in late 2020, when he began working with her at the Flint facility. During his first six weeks on the job, Foust commuted back and forth between Ohio, where his wife and two daughters still lived, and his new job in Michigan. "Tammy not only took a genuine interest in me professionally but also showed genuine concern about how I was doing four hours away from my family," says Foust, a global supply manager at GM.
Golden also models inclusive leadership in her interactions with her own team members. The more that people can "share themselves and live out loud," she says, the more they grow together as a team. As the newbie, Foust recalls not saying much during his first meetings with Golden's group. "She looked directly at me and said, 'Justin, what are your thoughts?' " says Foust, who describes Golden as "one of the best leaders I've had in my 13 years at GM."
Growing up in a single-parent home in Detroit, Golden watched her own mother continually try to juggle work with life. Golden's mother raised her and her two younger siblings while working and also attending school to become a registered nurse, eventually earning a master's degree in nursing. "That motivated me as I thought about the things I would do, and it shaped how I see people," Golden says.
The example set by her mother—whom Golden considers one of her greatest sources of professional inspiration—continues to inform Golden's vision for a more diverse, inclusive work culture. "It's important we don't place labels on people or judge them, because everybody's road is not paved the same," she says.
More than five years ago, TaiJaune Robinson, business manager for GM's motorsports division, sought out Golden as a mentor after hearing her speak at a GM Women in Manufacturing event. Robinson recounts a time when, as lead of a manufacturing plant's resolution team, she learned that a certain production procedure was not being followed. Robinson felt frustrated that the problem wasn't getting resolved and didn't know how to fix the issue without stepping on toes. Golden helped Robinson understand how she could approach the leadership team not just with the problem but also with potential solutions.
"Tammy is the type of person who will challenge you to do your best," Robinson says, "especially when she sees more than you may see in yourself."
Novid Parsi is a freelance writer based in St. Louis.
Photographs by Jeffrey Sauger for HR Magazine.