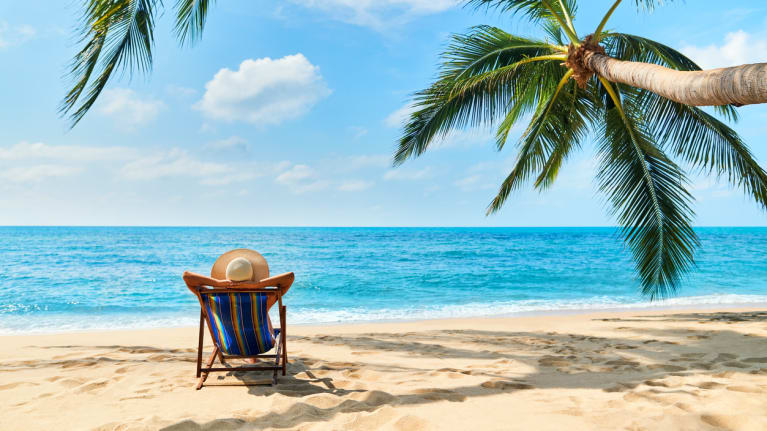 You wouldn't think that vacations would be a hard sell in today's stressful workplace. Yet a management expert finds only 44 percent of working Americans take advantage of all their earned time off.
Fear of falling behind at work is the most cited explanation, said Joe Mull, management consultant and author of Employalty: How to Ignite Commitment and Keep Top Talent in the New Age of Work (Page Two, 2023).
There's the agony of returning to 631 e-mails. Catching up on what happened the prior week or two. And the extra punishing hours put in to make ready for your leave.
Add "the giant bucket called PTO," or paid time off, Mull said. At many workplaces, vacation days fall into PTO, along with sick time and time off for child or elder care issues, homeowner calamities, and everything else. Workers hoard their PTO "just in case," he noted.
But taking time off work to refresh is essential to health and productivity. Not doing so can lead to burnout and mental health issues. "When workers feel so overwhelmed that they can't step away or they fear what it will take to unbury themselves upon return, vacation becomes a cost-benefit analysis," Mull said.
Simply allotting more vacation days doesn't solve the problem if employees are reluctant to use them. That's why a growing number of companies are implementing companywide shutdowns. This is paid time off for all employees and is in addition to earned vacation time.
Accounting and consulting firm PwC has been shutting down the last week of the year since 2003. The company added a second shutdown week in July for its 65,000 employees after seeing that fewer people were using vacation time during the pandemic, said Yolanda Seals-Coffield, chief people officer at PwC US.
EY, a professional services organization, offered a one-time gift of holiday time to employees in 2017 after they made the Fortune 100 Best Companies to Work For list for the 20th consecutive year. The "gift week" was such a success that EY began offering the extra holiday time twice a year—in July and December—to its 60,000 U.S. employees and partners, said Wendy Edgar, HR director at EY.
The Challenge of Unplugging
LinkedIn introduced a year-end shutdown in 2013 to address the problem of 24/7 communication devices. "People regularly report checking e-mail as basic instinct even in a beach chair," Mull said. And that quick question texted from a manager can completely derail someone's R & R.
"Business does not stop when employees are on vacation," said Nina McQueen, vice president, global talent—benefits and employee experience at LinkedIn. "[We wanted] to ensure employees could completely unplug and enjoy their time off without checking e-mail or feeling guilty for being 'off.' " In 2015, LinkedIn added a second shutdown, the week of July 4th, for its U.S. staff.
A synchronized break allows employees to step away without being punished with vacation catch-up when they return. Plus, there's no guilt or stigma about leaving it all behind.
Everyone respects the boundaries, Edgar said of the cessation of e-mails that week. "The feedback is resounding. It's our No. 1 benefit," Edgar said. "The holiday week is appreciated more by employees than scheduled vacation."
"A company shutdown is a phenomenal opportunity to disconnect, recharge and truly relax," Seals-Coffield echoed. "People value it, and it works really well." The proof? PwC sends a survey to employees after their shutdown week to see if they successfully disconnected from work. "Less than 5 percent had their time interrupted last year," Seals-Coffield said.
The expectation is that employees will be happier and more productive after a restful vacation. "It's an investment we're making in our people that offsets any economic loss," Seals-Coffield summed up. "A big part of [employee] retention is burnout, and I'd hope [this policy] is helping with that."
Nuts and Bolts
Edgar would encourage all organizations to consider implementing a companywide break. She said EY leaders had a lot of concerns about the plan beforehand but later said it was one of the best things they've done.
Talk to other companies that have implemented this policy, Edgar advised, and analyze the potential impact on revenue, clients, customers and employee productivity. Don't forget that a companywide shutdown saves money on utilities and overhead, too.
Closing shop for a week is not possible for 24/7 organizations like hospitals and other "always on" companies. But there are alternatives. Half of a company can take one week off and the other half a different week. Or arrange staggered department vacations where the manager and employees in one unit all take the same week off.
Then select a week and announce it to employees as far ahead as possible so they can make plans. The end of the year is popular for closure because many employees—and clients—take time off between Christmas and New Year's Day anyway; the same is true for the week of July 4 and Thanksgiving.
CallerSmart, an iOS app and website for reverse phone number lookup, offers a companywide vacation at the end of each year. Katie Boudreau, the company's operations and HR manager, said to start planning at least six months ahead. "Work with employees to see which tasks can be deferred, how to find a temporary replacement for their work and whom to reach in case of work emergencies," Boudreau advised.
Spell out the new vacation plan in writing, too. Include details such as whether employees are allowed to schedule PTO right before or after the shutdown. Consider how and when you will inform clients, vendors and stakeholders about the closure. And make sure top company officials take that the time off, too. Leaders and company executives need to lead by example and truly disconnect during the break, McQueen said.
Still not sure your company can swing this? Edgar recommends trying it once for a week without committing to an annual shutdown. It's hard to take things away if it doesn't go the way you wanted, she said.
Eve Glicksman is a freelance writer based in Silver Spring, Md.